The Spiritual Dimension of Care
Join us to explore Christian Science Nursing as an avenue for healing at this informative one-day seminar entitled: The Spiritual Dimension of Care, November 24, 2018 from 9:00 am to 4:00 pm at First Church of Christ, Scientist, Calgary. Presented by Margit Waterman.
Cost is FREE. Call 403 209-0012 to register.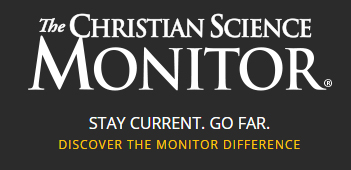 The Christian Science Monitor is an independent international news organization that delivers thoughtful, global coverage. We want to inspire people to think about what they've read long after they've left the page. To share what they've learned with others. And to do something that makes a difference.
In an era when the mainstream media has narrowed its focus, we're convinced readers yearn for the opposite. The Monitor's global approach is reflected in how founder Mary Baker Eddy described its object as "To injure no man, but to bless all mankind." Our aim is to embrace the human family, shedding light with the conviction that understanding the world's problems and possibilities moves us towards solutions.

Visit
www.csmonitor.com
for international news.
More About the Christian Science Monitor
Parliament of the World Religions​ ​will be held in ​Toronto November 1-7, 2018​, at the Metro Toronto Convention Centre. ​More than 10,000 people will participate in the weeklong conference. The Parliament will be the world's largest interfaith gathering, offering the global religious and spiritual communities—and their leaders—a forum to discuss and explore peace, diversity, and sustainability in the context of interreligious understanding and cooperation.
​The topic for the Parliament this year is: ​The Promise of Inclusion, the Power of Love: Pursuing Global Understanding, Reconciliation and Change. More than 500 programs ​are ​scheduled throughout the seven days, including lectures, dialogues, workshops, symposia, performances, and exhibits. Working in conjunction with The Mother Church and the Manager's office, Wendy Margolese, (COP for Ontario) is chairing the ​Organizing Committee for Christian Science​ at the Parliament.
Visit www.csmonitor.com for international news.

More About the Christian Science Monitor