Christian Science practitioners are spiritual healers who pray for healing for those who call upon them for help. These experienced men and women are also happy, simply to answer questions about the practical blessings that come through the study of Christian Science.
To become a Christian Science practitioner requires an intensive course of study, of the Bible and Science and Health with Key to the Scriptures by Mary Baker Eddy, with an authorized teacher of Christian Science and a record of successful healing. A Journal listed Christian Science Practitioner is devoted to a full time healing ministry.
Practitioners and teachers are available full time to talk with and help anyone, anywhere, anytime, through prayer. Feel free to contact a practitioner or teacher by phone, email, Skype, text, written letter, or to make an appointment to meet with them in person. See the directory for Journal Listed Practitioners worldwide. Fees and payment are determined by the individual practitioners.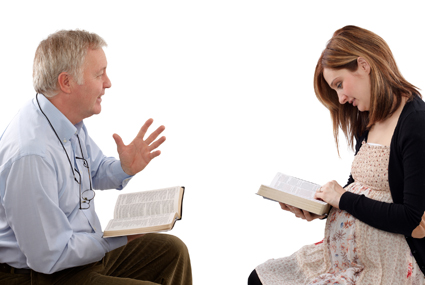 Contact a Practitioner
Contact a Christian Science Practitioner in Alberta

Worldwide listing of Christian Science Practitioners
Scope of Services Document
This document is not an attempt to give a complete statement of Christian Science practice, but to provide other professionals—attorneys, accountants, insurance providers, etc.—a general sense of what is involved in the practice of Christian Science.
Scope of Services (PDF)
What does a practitioner do?
What's it like to talk with a practitioner?
Photo by Canstock
Divine Love always has met and always will meet every human need.
Mary Baker Eddy, Science and Health with Key to the Scriptures
Experiences of healing
In Science and Health with Key to the Scriptures Mary Baker Eddy states that Jesus "maintained his mission on a spiritual foundation of Christ-healing" (p. 136). The practice of this system of Christian healing has resulted in significant cures of physical and mental problems for over a century. In Christian Science, the power of prayer lies not in faith alone but in a deeper understanding of God's divine laws, which embrace humanity. This understanding touches and transforms the heart. Many people have found that as God's presence and love become more real and tangible, healing and regeneration occur naturally.
Click here to watch the videos