The prayer that reforms the sinner and heals the sick is an absolute faith that all things are possible to God, — a spiritual understanding of Him, and unselfed love.
Science and Health with Key to the Scriptures 1: 1
Foundation for Spiritual Healing
The Bible
The Bible is the basis of Christian Science and the teachings of Mary Baker Eddy. Christian Scientists study the Bible and work to apply the lessons learned from Scripture in their daily lives. The King James Version is the most widely used translation and is quoted more than 800 times in Science and Health.
Science and Health
In the Christian Science textbook, Science and Health with Key to the Scriptures, Mary Baker Eddy explains the scientific laws behind the teachings and healings of Christ Jesus. From the first chapter, "Prayer," to her exegesis of Genesis and Revelation, to a Glossary of terms, the author invites readers to deeply consider the allness of God, the perfection of man as God's spiritual creation, and how an understanding of these facts brings healing — just as they did in biblical times. As explained in her book Miscellaneous Writings 1883–1896, (p. 259) "Truth is the power of God which heals the sick and the sinner, and is applicable to all the needs of man."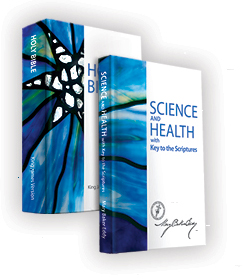 The Bible and Science and Health with Key to the Scriptures by Mary Baker Eddy comprise the pastor of this global denomination.
Talk to Someone or Get Help
Christian Science practitioners and teachers
Practitioners and teachers are available full time to talk with and help anyone, anywhere, anytime, through prayer. Feel free to contact a practitioner or teacher by phone, email, or make an appointment to meet with them.
Alberta Practitioners
Mrs. Judith J. Mackintosh, C.S.
403.245.8023
jude.mac@shaw.ca
Joy Hinman, C.S.
403.616.7280
joyhinman@gmail.com

Worldwide Practitioners
Listing of Worldwide Practitioners
The healing power of God
Evan Mehlenbacher, CSB, shares some powerful examples of the prayer that heals, in this talk from a lecture series filmed in Pasco, Washington.
Location
First Church of Christ, Scientist - Calgary
2603 19th Street NW
Calgary, Alberta T2M 3V5

T: 403.266.3787
E: fccs@shaw.ca
Sunday Service
Our Sunday church services are held at 10:00 am until 11:00 am. All are welcome!
Wednesday Testimony Meetings
Each Wednesday at 1:00 pm and at 7:30 pm, our church holds an informal testimony meeting where those in the congregation tell of the healing power of prayer in their lives.
Wednesday at 1:00 pm
#101, 1118 - 12 Ave SW

Wednesday at 7:30 pm
2603 19th Street NW
Reading Room
#101, 1118 - 12 Ave SW Calgary
Street parking available at front

Monday to Thursday - 10:00am to 5:00pm
Friday and Saturday - 10:00 am to 4:00pm
In our Calgary Reading Room, we offer a warm and friendly place for those exploring spiritual answers to life's questions and problems. Our friendly attendants are always available to answer any questions you may have about the teachings and practicality of Christian Science.
To further your spiritual growth, we offer a wide range of materials to purchase, borrow or study, including the Bible and Science and Health with Key to the Scriptures, by Mary Baker Eddy. You may also make use of the computer study package "Concord". The JSH-online subscription service is provided at both Calgary Reading Rooms. Please feel free to stop by to use this helpful resource during operating hours. You may access the public page at http://jsh.christianscience.com for more information.