TeenConnect fulfills an ongoing desire to support Sunday School students and young church members in their practice of Christian Science and to offer an online space where teens can share, grow, and get answers to their questions.
Watch the intro video below and visit sentinel.christianscience.com/teenconnect for more details.
A summit for 20- and 30-somethings — October 11-13, 2019

Metaphysical theme
"...let us not love with words or speech but with actions and in truth." —I John 3:18, New International Version
This spiritual summit is open to professionals, stay-at-home parents, world travelers, graduate students, and recent grads in their 20s and 30s. If you're interested in exploring how Christian Science can have a more effective healing impact in your life and for the world, we'd love to have you join us. This isn't just about "thoughts and prayers." It's about seeing how your prayers are one thing: thought and action. We'll also explore how Church is a safe haven and springboard for our spiritual growth and a tangible blessing to our communities. So come as you are! Whether you've been studying Christian Science for a long time or are brand new to it, whether you know it's right for you or are still figuring out your relationship to Christian Science. Let's change the world together. Click here for details
Overwhelmed? Prayer can help.
By Kristin Manker
From the teen series: Trending - September 4, 2018
I wanted to do a good job on everything, but a few weeks into the school year it became apparent that I couldn't do it all on my own. My thesis research wasn't coming together; my coursework was quickly piling up; and I felt pressure to do all of my extracurricular work perfectly.
Whoa. OK, press the pause button. Something needed to change, and that began with the way I was thinking about all these projects and responsibilities. In the past, I'd found that getting a more God-based perspective always helped, so I turned to the weekly Bible Lesson found in the Christian Science Quarterly, which is made up of passages from the Bible and from Science and Health with Key to the Scriptures by Mary Baker Eddy.
If you want to stop hating someone
By Gracie Paul
From the teen series: Your Healings - October 23, 2018
For about a year, I really struggled with hatred toward a girl in my grade. I could barely stand to be in the same room with her, let alone talk with her.
A backpacking breakthrough
By Ruby Colby
From the teen series: Your Healings - August 14, 2018
When we arrived at headquarters at the start of the trip, we learned that our group would be breaking the school record for elevation gain and distance hiked. Immediately, the group's anxiety was palpable, and it was at that moment that I realized I had a choice. I could either join them in feeling worried and afraid, or I could do my best to help lift everyone up. But despite my best attempts to remain a source of positivity and inspiration, after the first day my confidence started to fade, and I was also beginning to feel anxious.
Online Sunday School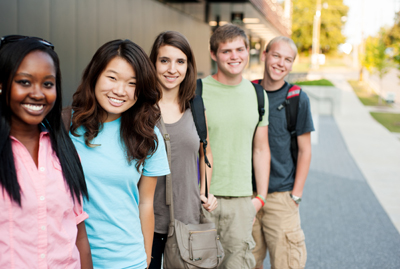 If you're under the age of 20 and live in a remote area where there are no Christian Science branch churches or societies, you can enroll in online Sunday School. Classes are taught in English and Spanish at a variety of times every Sunday to serve students around the world. Fill out The Mother Church Sunday School online application to enroll. If you're under 18, have your parent or guardian fill out the Online Sunday School Permission section.
Alberta Sunday Schools
Our Alberta Sunday Schools are located in Calgary, Edmonton, and Red Deer.
Social