Cybersecurity from China's Perspective
Thursday, February 4, 2016 7:00 PM to 8:30 PM EST – Live stream of 'Cybersecurity from China's Perspective': Watch online as Monitor Passcode editor Mike Farrell and leading experts on China and cybersecurity discuss what's at stake and what's involved in improving relations between China and the West in cyberspace. Link to the program through The Mary Baker Eddy Library event webpage, or directly through the Passcode section of The Christian Science Monitor.
The Gift of Christian Healing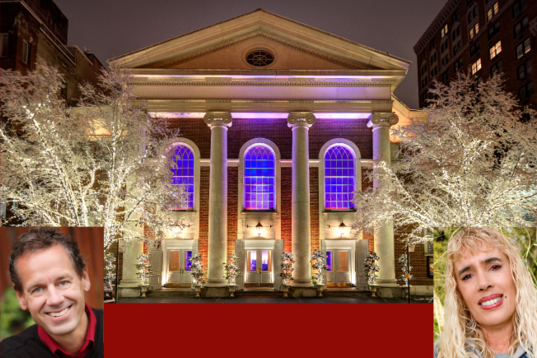 On Christmas Eve we shared a free Christian Science talk given by Evan Mehlenbacher live and online in English and Spanish. Evan's new talk "The Gift of Christian Healing" illustrates how the healing that Jesus and his disciples accomplished was not limited to their time on earth. The power of the Christ gives us a practical means of healing today.
This event has been archived on Youtube.
Christmas 2015
How is Christ Our Savior?
The Bible teaches us that Christ is our Savior. What does this mean? How is Christ our Savior?
In this Sentinel audio chat Douglas Keith will respond to your questions on this important topic.
About Douglas Keith: Douglas grew up in the Christian Science Sunday School and joined The Mother Church his senior year in high school. During his years in the Army he was a Christian Science Representative. He worked at The Mother Church at various times over the years. He has been active in branch church work as a Sunday School teacher, member of executive boards, and as First Reader and Second Reader. Douglas has been a practitioner listed in The Christian Science Journal since 1996.
Audio chat begins on December 22, 2015 at 2:00 pm EST.
Video Lecture
A Conversation with Mary Baker Eddy
A 30 minute video presented by Chet Manchester and Anne Early.
Sponsored by First Church of Christ, Scientist - Edmonton
Historical Lectures
Listen to Historical Recordings of Christian Science Lectures
During the 1960's, Christian Science lectures were frequently broadcast in the New York City area. Many of them were recorded on reel-to-reel tape, which you may now enjoy. Visitors to our site have also contributed many new lectures. We have added a few lectures which use a synthesized, computer-generated voice. The lectures date from 1922 or earlier, and were printed in media such as the newspapers and journals of the time. You may notice some imperfections in the text-to-speech conversion, but hopefully the message will come through.
Click here to access the lectures.
How you can change the world
A lecture presented by Tom McElroy, CS. Filmed in Portland, Oregon, USA on April 9, 2011 at the Northwest Spiritual Activist Summit.
Spiritual self worth, well being, and freedom
A lecture by Rob Gilbert, Christian Science healer and teacher. Filmed in San Francisco on August 11, 2012
Two degrees of baptism
Watch this lecture from Elise Moore - from March 2013.
God and health
Watch this full lecture "God and health" with Robert Gilbert. This lecture was filmed in Buellton, California on June 23, 2012.
Guest lecturer series 2013-14

It's a precious thing to hear someone reflecting on insights and lessons gained over a lifetime. When these lessons touch on subjects like God, prayer, healing, and church, they naturally bless the wider family and community.
Click here to view the lectures