Our Calgary Reading Room is open for regular hours. We also offer curbside and mail out service for those who prefer it. We ask that people ring the doorbell when they come. Please wear a mask.
About our Reading Rooms
In our Calgary Reading Rooms, we offer a warm and friendly place for those exploring spiritual answers to life's questions and problems. Our friendly attendants are always available to answer any questions you may have about the teachings and practicality of Christian Science.
To further your spiritual growth, we offer a wide range of materials to purchase, borrow or study, including the Bible and Science and Health with Key to the Scriptures, by Mary Baker Eddy. You may also make use of the computer study package "Concord" and the JSH-online subscription service, offering a wide range of inspirational materials for our visitors to explore in our quiet study room, at our downtown location. You may also access JSH-Online for information on subscriptions.
Calgary Southwest
#101, 1118 - 12 Ave SW
Phone: 403-209-0012
Email:
Please note that the city has removed all of the parkplus machines in the immediate area of the Reading Room.
There are several flexible and contactless payment methods available for parking:
The Ciy of Calgary MyParking app is available for free in the Apple and Google Play Stores, allowing for easy start and stop parking sessions and only pay for the time you parked.

Call to Park allows ParkPlus account holders to start and stop a session by calling 403-537-PARK (7275) and following the voice prompts.

Text to Park allows ParkPlus account holders to manage their parking sessions by testing "start" or "end" and the ParkPlus zone number to 77587 (PPLUS).

A Virtual Pay Machine (VPM) allows anyone to securely pay for parking without a ParkPlus account.
If you need assistance with these methods, please do not hesitate to contact a Reading Room staff member.
Hours
Monday-Wednesday 10:00 am - 5:30 pm
Thursday Noon - 7:00 pm
Friday and Saturday 10:00 am - 4:00 pm
Healing Testimonial Meeting
Our testimonial meeting on Wednesdays at 1:00 pm has been temporarily suspended. You may attend our meetings online via Zoom pm Wednesdays from 7:30 to 8:30pm and Sundays from 10:00 to 11:00am. If you would like attend please email Chris at christrr@shaw.ca and she will send you an email link to the Zoom service(s) of your choice.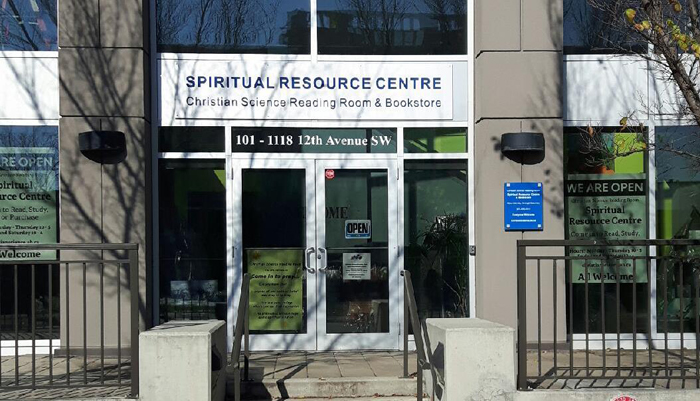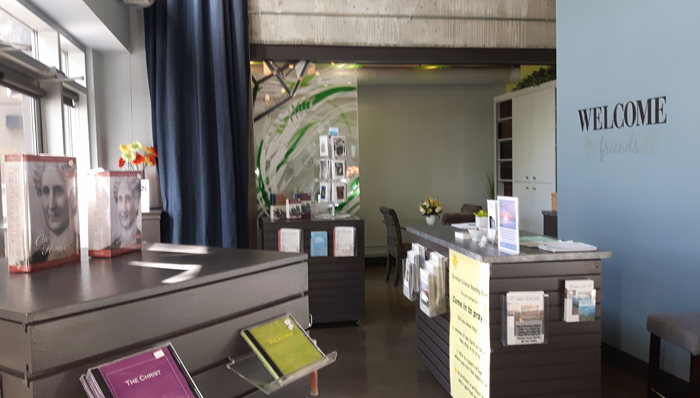 Bible Study
Meetings are currently held on ZOOM, following the service on Sunday, once per month. Listen on ZOOM for the next date. Call 403-209-0012 for more information.
Calgary Northwest
Location temporarily closed
2603 19th Street NW, Calgary
(Same address as the church)
Hours
Wednesday - 7:00pm to 7:30pm


The JSH-online subscription service is provided at both Calgary Reading Rooms. Please feel free to stop by to use this helpful resource during operating hours.
A whole new way of studying, searching and sharing the Christian Science periodicals is available online at JSH-Online.
JSH-ONLINE will keep you "abreast of the times," giving you a portal to over 130 years of Christian Science publishing. With your monthly subscription you can access, search, read, listen, study, and share over 250,000 articles and testimonies and over 600 Sentinel Radio programs on your computer, tablet, or smartphone.
You will also have access to new online original content such as articles, blogs and podcasts. With JSH-Online you get it all, from the first edition of The Christian Science Journal, Sentinel, and Herald to the latest issue.